1-QUAY – Sydney 
  / World Ranking: 
Cuisine: Modern Australian/Contemporary
Location: Sydney, NSW
Quick Word: Iconic views, amazing presentation of dishes, eclectic Australian ingredients, textural variety
Chef: Peter Gilmore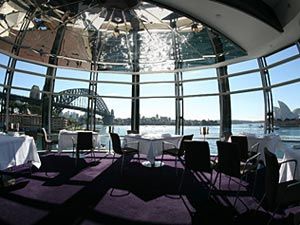 It's second year in the World Top 100 Restaurant list, Quay came in at number 27 and earned the title of Best Restaurant in Australiasia. It also retains 3 hat status in the SMH Good Food Guide and 3 stars in Gourmet Traveller magazine into 2011. Overlooking Sydney Cove, Quay features stunning views sweeping across from the Sydney Opera House at one end to the Sydney Harbour Bridge at the other end. The dishes are as aesthetically pleasing as the views, they are beautifully plated with vibrant colours in forms that draw inspiration and metaphors to scenes and objects from nature. Past the superficial, the menu doesn't fail to deliver quality and creativity. Textural variety and complexity is a notable feature of Peter Gilmore's cooking and is showcased in dishes such as the Jackfruit Snow Egg or the Eight Textured Chocolate Cake. Rare and unusual ingredients are sourced from around Australia to create dishes that are as much about balance as they are about contrast of flavours and textures. Dining at Quay is a captivating experience that showcases the great diversity and quality that modern Australian cuisine can offer, set amidst some of the most iconic scenery that Australia can offer.
Flavours of Spain are your specialized Sydney paella catering experts. For more information please see our home page.