MEDIA ALERT
Papitos Restaurant wins
OCEANIA'S 2nd INTERNATIONAL PAELLA CHAMPIONSHIPS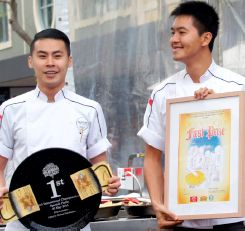 Sydney, 30 May 2015
Papito's restaurant from Singapore won Oceania's 2nd International Paella Championships organised by the Australian catering Company "Flavours of Spain" in Sydney on Saturday 30 May in Manly, Sydney.
Miguel Cuevas, Director of Flavours of Spain said: "the prize went to Asia. All four members of the jury agreed unanimously that the winner cooked an almost-perfect paella".
The winning paella made of chicken, rabbit and chorizo was made "with a lot of effort and focus and stood out for its socarrat (crusty bottom of the paella), symmetry and it's flavour", said Miguel Cuevas about the winning dish. The Championships were part of the Taste of Manly food and wine festival in Manly, Sydney.
This is the second edition of the championships and this time the chefs had the chance to cook a 'freestyle' paella as opposed to last year's when they had to cook a traditional version.
Simply Spanish restaurant from Melbourne was second place for the second year on a row.
The third place was a joint place between "The Deck" restaurant in Sydney and "Elena's Paella" from Melbourne.
The top three in this 2015 edition in Oceania will compete as the region representatives in the world finals in Spain and will aspire to the title of 'Best Paella chef in the world".
The event is organized by Flavours of Spain and Manly Council.
For more information contact www.flavoursofspain.com.au
For more details about last year's championship, please check out this video:
For more details please check www.flavoursofspain.com.au
Facebook:https://www.facebook.com/FlavoursOfSpain
Twitter:https://twitter.com/FlavoursSpain
Instagram:http://instagram.com/flavoursofspain_au
Phone: 0421 348 638
Flavours of Spain are your specialized Sydney paella catering experts. For more information please see our home page.