Our Awards
We have won a few and we keep entering more. We find this is very important for our development and keeping a hold to excellence. The more we win the more zealous we become of our product and quality…and all for the better for the client!
2014 Winner – Le Bon Vivant Food Critic – Caterer of the Year

Sydney's Leading Food Blog 'Le Bon Vivant' has awarded Flavours of Spain as Caterer of the Year. This fantastic foodie is dedicated to the passionate pursuit of sublime food and wine.
2014 AGFG Readers' Choice Awards Regional winner

The AGFG (Australian Good Food and Travel Guide) has been long acknowledged as Australia's most comprehensive restaurant and travel authority. It recognises great food, with a focus on ingredients, seasonal consideration, flavour, display, aroma, freshness, craft, presentation and portion size.
2012 Australian Achiever Awards

The Australian Achiever Awards measures, recognises and rewards the success of your customer service delivery.
Certificate of Excellence Trip Advisor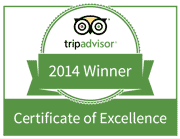 In 2014 we received a certificate of excellence from one of the most influential review sites.
REQUEST A FREE QUOTE
We will be in touch within 24 hours.  Please feel free to call us for an instant quote on 0424 962 631.